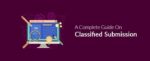 Classified submission is an important aspect of off-page SEO, which focuses on optimising factors outside of your website to improve search engine rankings. Here are several reasons why classified submission is important in SEO:
Backlink Generation: Classified submission allows you to include a link to your website in the classified ad. When the ad is published on classified sites, it creates a backlink to your website. Backlinks are crucial for SEO, as they signal to search engines that your website is trusted and authoritative. The more quality backlinks you have, the higher your website's chances of ranking well in search engine results.
Increased Website Traffic: Classified submission helps drive targeted traffic to your website. When users browse through classified ads, they are often looking for specific products or services. By posting relevant and attractive ads, you can capture the attention of potential customers who are actively searching for what you offer. Increased traffic not only boosts your website's visibility but also increases the likelihood of conversions and sales.
Local SEO Optimisation: Many classified sites focus on specific geographic areas or have location-based categories. By submitting your business to local classified sites, you enhance your local SEO efforts. Local SEO aims to improve visibility in local search results, making it easier for people in your area to find your business. This is especially beneficial for businesses that primarily target a local customer base.
Brand Exposure and Awareness: Classified submission allows you to showcase your brand, products, or services to a broader audience. It offers an additional platform for potential customers to discover and learn about your business. Increased brand exposure and awareness can lead to brand recognition and loyalty, as well as organic word-of-mouth marketing.
Cost-Effective Advertising: Classified submission is often an affordable or free advertising method compared to other forms of promotion. While some classified sites may charge for premium features or ad placements, many offer free ad listings. This makes it an attractive option for businesses, particularly small and medium-sized enterprises, with limited marketing budgets.
Social Signals and Engagement: Classified ads often have interactive features that allow users to engage with your ad through comments, likes, or shares. These social signals can contribute to search engine rankings and improve the overall engagement and visibility of your ad. Engaging with users who interact with your ads can also help build relationships and establish trust with potential customers.
Remember that classified submissions should be done strategically and selectively. Choose reputable and relevant classified sites to post your ads, ensuring they align with your target audience and industry. By leveraging classified submission as part of your SEO strategy, you can improve your website's visibility, attract targeted traffic, build backlinks, and enhance your overall online presence.